Heritage Club Members Tour at Silhouette on Wednesday 14th August 2019
Heritage Club Members Tour at Silhouette on Wednesday 14th August 2019
Heritage Club Members Tour at Silhouette on Wednesday 14th August 2019
Mon, 08/19/2019 - 14:46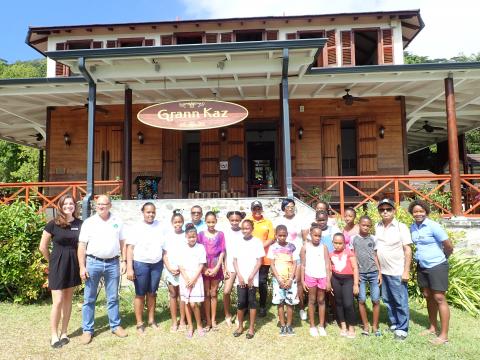 Heritage Club Members Tour at Silhouette on Wednesday 14th August 2019
A group of excited heritage club members eagerly awaited the ferry at Bel Ombre jetty to venture out on an exploration tour on the Silhouette Island.  For most of the youngsters it was their first time to an inner island and they were very much over overwhelmed with the idea of discovering the history of Silhouette.
After a choppy 30 minutes crossover to the islands, the children were relieved to finally set foot on this beautiful granitic island, with such vegetation and a fascinating history.
Mr. Tony Mathiot from the history Museum gave a special tour to the overexcited club members, whereby he depicted the history of Silhouette, recounting the lives of yesteryears of the Dauban family where most of the remains of the late generation are buried.
Following that the students had a chance to tour the plantation house, which nowadays housed an extraordinary exhibition about Silhouette.  They also had the chance to visit the tombs of the Dauban family and toured the island.
The visit ended about 3pm whereby the very satisfied heritage club members headed back to Mahe with a little bit more knowledge and appreciate Seychelles history and heritage.
Seychelles Heritage Foundation would like to thank Labriz Silhouette for their hospitality and cooperation to give the opportunity heritage club members to be exposed to historical sites of great value in Seychelles history.  Thank you, also goes to Heritage Club Coordinators and Mr. Tony Mathiot, our guide from History Museum.