August Holiday Programmes Proves To Be A Success
August Holiday Programmes Proves To Be A Success
August Holiday Programmes Proves To Be A Success
Tue, 08/27/2019 - 13:23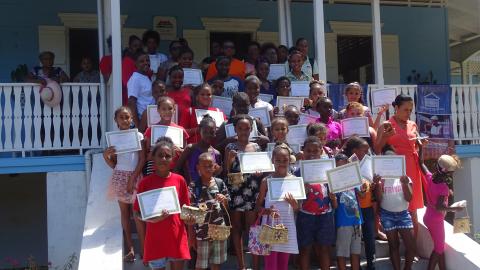 As part of its August holiday programmes, the Seychelles Heritage Foundation organised a one week activity from the 19th to 23rd August 2019 whereby Heritage Club members and children had the chance to learn various traditional artisanal crafts and traditional dances.  Seychelles Heritage Foundation received over a total of 60 participants during these five days. 
Enthusiastic children were eagerly ready to accompany Mrs. Adrienne, facilitator for vacoa works, to learn how to gather and prepare vacoas leaves in order to start weaving the leaves to produce various items such as purses, bags and baskets.  Patience was a virtue well displayed, while the children methodically learn how to weave the prepared leaves into beautiful items.
Meanwhile, the group learning how to do flowers from 'Tanmi Koko' attentively watched Mr. Joel Banane how he expertly cut and prepared the tanmi to be crafted into beautiful flowers.  Soon the children consciously cut out tanmi and manoeuvred well their task to create attractive 'tanmi koko' petals which were put together on the wooden stick to make locally made tanmi flowers. They also learned how to fashion other traditional items popular with children in the olden days such as coconut leaves earings, watches and toy windmill. 
The 10-12 students in the traditional dance were fast in catching up with Mrs. Christiane Nibourette and Ms. Watts on how to learn the different steps, moves and counts in the traditional dance.  Soon they were able to follow the rhythm of simple dance such as 'Vals', 'Kotis Senp' to the more complicated ones, such as the 'Kontredans'.
In the servant house, facilitators Mrs. Wilna Rosine and Ms. Jerina Pothin, were busy showing the group of boys and girls how to cut out fabrics and stitch it up to do traditional rags dolls. They were engrossed with their needle works to make sure that the dolls were colourfully put together.  
After an awesome week together, whereby the children and their coordinators learnt more about our traditions and heritage, they all received a certificate of participation.  It is also good to note that there were a few adults who also attended the workshop.
In all it was a rewarding experience for both facilitators and participants.This activity has definitely encouraged the youth to develop appreciation for Seychelles Tradition and Culture.
The staff of Heritage Education and Communication Unit within Seychelles Heritage Foundation, Ms. Miriam Cesar and Ms. Liza Hoareau, put a lot of emphasis on activities which would enrich the traditional knowledge of the young generation by providing diverse opportunities for participation.  The Unit is encouraging all heritage club members to take part in the Heritage Club competition.  All information are available with the Heritage Club coordinators in schools and on Seychelles Heritage Foundation website www.seyheritage.sc