Mrs.Adrienne's 1st Solo Exhibition for the occasion of her 75th Birthday
Mrs.Adrienne's 1st Solo Exhibition for the occasion of her 75th Birthday
Mrs.Adrienne's 1st Solo Exhibition for the occasion of her 75th Birthday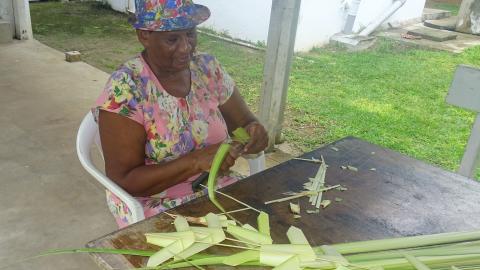 ''Koleksyon mon lavi, Mon Legzibizyon'' is the title given for the first solo exhibition of Mrs.Marie-Anne Adrienne who is an artisan from the Anse Royale district. Mrs. Adrienne started to develop the interest in sewing and craft works at the tender age of fourteen. It was both because of her passion for the job and necessity at that time which propelled her to make crafts as her life long career.
Over the 61 years of experiences, Mrs. Adrienne has acquired different skills and knowledge in various areas of traditional crafts, from sewing of christening dresses to wedding dresses. She crafted delicate vacoa purses and vacoa bags. Her expertise extends to making rag dolls, traditional decoration using coconut leaves and weaving of kapatya.
Mrs. Adrienne told us that it has always been her dream to one day have a solo exhibition. She is very thankful to all her children, the senior citizen of Anse Royale and Port Glaud and the Seychelles Heritage Foundation to have been able to make her dream come true.
Seychelles Heritage Foundation wishes Mrs. Adrienne success with her exhibition. The exhibition will take place on Wednesday 10th July 2019 at 10am, Domaine de Val des Prés and will remain open until Friday 19th July 2019.
Mrs.Adrienne's 1st Solo Exhibition for the occasion of her 75th Birthday
07/10/2019 - 10:00 - 07/10/2019 - 11:30